Pigskin Madness 2020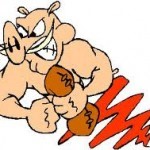 A $ 20.00 game of chance based on the NFL Season!
Each Ticket has four randomly selected professional football teams for each of the 17 weeks of regular season play. At the end of every week, all the scores on your ticket are added together, and the top six tickets with the highest total scores will win cash prizes (if you have the lowest combined score there is also a cash prize).
Results will be posted weekly on the Special Olympics Wyoming Website by the end of the day Tuesday, checks to winners are sent out the same week.
2020 Ticket Goal - 2,000
Selling Processes
Tickets can be ordered in groups of ten (10) by contacting the state office at (307) 235-3062 or e-mail info@specialolympicswy.org.
All ticket stubs and money's must be returned by 5:00 pm on Wednesday, September 9, 2020. Any outstanding tickets will be charged to the local program.
Incentives? For every fifty (50) tickets sold – one (1) ticket will be put into the raffle in the name of that local program -
2019 programs recieving incentive tickets? Powell Masters, Sublette, Cheyenne, Douglas, Gillette Masters and Newcastle Masters.
Top Law Enforcement Sellers? Rock Springs, Casper, Douglas, Sheridan, Uinta County and Powell.
For weekly results click here!
Thank you everyone for selling - buying - supporting Special Olympics Wyoming!