Happening Now
July 1st to the 21st is the People with Disabilities campaign at your local Albertson's or Safeway. When you shop at one of these stores be sure to tell them thank you!
"We are Better Together Community Night" with Casper Horseheads Baseball Team
On July 24th we have two great events happening!
1) Casper Horseheads Baseball Clinic 10- 12 pm! Athletes will work on skills with Casper Horseheads players and then have lunch. More information and registration here!
2) Join us for a Community Night to wrap up celebrating the 50th year of Special Olympics. We are celebrating that We Are Better Together. Come watch the Horseheads play, join our inclusion revolution, and celebrate. More info to come. Click here for a flyer and to purchase tickets.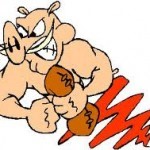 That's right, training camps are coming up in July, schedules are out, it's time to start selling Pigskin Madness raffle tickets!