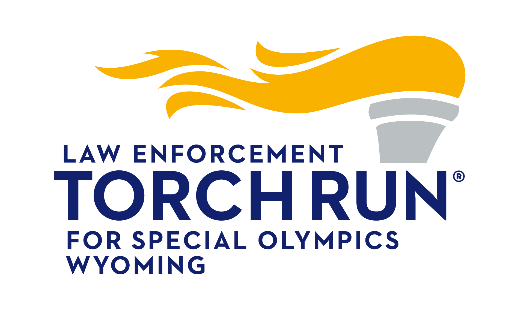 What is The Law Enforcement Torch Run®?
The Law Enforcement Torch Run® for Special Olympics Wyoming is part of the worldwide movement's largest grass-roots fundraiser and public awareness vehicle.
At its most basic level, officers and athletes – the Guardians of the Flame – run the Special Olympics "Flame of Hope" to the Opening Ceremonies of Special Olympics competitions. As a whole, the Torch Run encompasses a variety of year-round fundraising events such as Jackalope Jumps, Tip A Cop, LETR Merchandise Sales, Fire Truck Pulls, Strikes for SO, Truck Convoy, corporate donations, and other special events! All fundraising proceeds directly benefit the athletes of Special Olympics Wyoming. Most importantly, officers continually interact with Special Olympics athletes and are the primary medal presenters at the local, area and state competitions.
---
News and Resources

The Wyoming Torchbearer - Summer

Hall of Fame Nomination Form
Purpose
The Wyoming Law Enforcement Torch Run Hall of Fame Award was created to recognize outstanding individuals who have significantly contributed to the statewide success of the Law Enforcement Torch Run for Special Olympics Wyoming athletes.
Getting your agency involved for the first time?

For information about the International Torch Run Program go to www.LETR.org

Wyoming Law Enforcement Torch Run Council
---
THANK YOU TO OUR 2020 SPONSORS!
GUARDIAN SPONSORS
SILVER MEDAL SPONSORS
BRONZE MEDAL SPONSORS
Wyoming Otolaryngology ~ Wyoming Fraternal Order of Police ~ Club Dauntless
Trader's Publishing ~ CEPI of Casper ~ GSG Architecture ~ Wyoming Peace Officers Association
BLUE RIBBON DONORS
Service Tech LLC