Unified Champion Schools is an education and sports based approach powered by an engaged youth community that increases athletic and leadership opportunities for students with and without intellectual disabilities while creating communities of acceptance for all.
A Unified Champion School is comprised of three core components:
Spread the Word to End the Word has been reinvented to Spread the Word Inclusion! Click here for more information and resources.
2018 Global Youth Leadership Forum
In celebration of Special Olympics' 50th Anniversary, 120 youth leaders from around the world were chosen to attend the 2018 Global Youth Leadership Forum in Baku, Azerbaijan. Special Olympics North America sent delegations from Arizona, Colorado, Florida, North Carolina, Illinois and Wyoming. The Wyoming delegation consisted of Unified Pair Hanna Schutzman and Craig Wasia, teachers and coaches Sarah Call and Jessica Purdum, and Special Olympics Wyoming's Director of Schools and Youth Amanda Ward.
During the week long forum youth leaders had the opportunities to learn leadership and inclusion skills from many professionals in the sports industry, business, government and service organizations and Special Olympics international Global Ambassadors and Board Members. Including Vladimir "Vanja" Grbic, Olympic Gold Medalist and Special Olympics Global Ambassador for Volleyball; Tobias Staebler, Manager of Youth Engagement, Special Olympice Europe Eurasia; The Honorabe Azad Rahimov, Minister of Youth and Sport, Republic of Azerbaijan; Ms Nadia Comaneci, Multi Olympic Gold Medalist; Special Olympics Global Ambassador; The Honorable William R Gill, Charge d'Affaires, Embassy of the United States of America in Azerbaijan; Ms Alanna Armitage, Regional Director for EECA, United Nations Population Fund, Ms. Natalia Vodianova, supermodel, philanthropist, Special Olympics International; Dr. Cmdr. Kartikay Saini, Chairman Special Olympics Bharat; Ms. Lucy Meyer, National Spokesperson for the Special Olympics – UNICEF USA Partnership; Ms Eva Polyzogopoulou, Assistant Director of Programs and Operations, Stavros Niarchos Foundation; Ms. Gudrun Yngvadottir, International President, Lions Club International, and many more.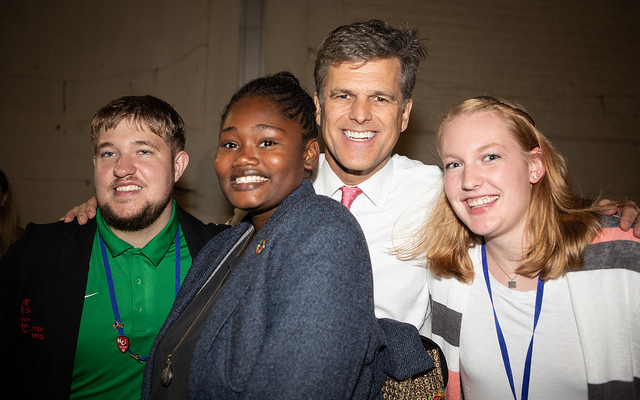 Perhaps even more impactful were the presentations and panels that highlighted fellow youth leaders and their missions of inclusion. Youth leaders from Special Olympics Florida, Juanan Gaspar and Tajha Ilerant; LEO and Special Olympics Youth Leader from Indonesia, Mr Stephanus; Youth Leaders from Special Olympics UAE, Chaica Saqar Sultan AlQasimi and Noura Mohamad Alblooki; and Fatma Said Ahmed Ambassador, Michael Johnson Young Leaders. One of Wyoming's Unified Pairs favorite parts was the practical session of the Power of Unified Sports. Unified pairs were able to take the field with Mr. Brad Douglas, Technical Director, Coerver Coaching Europe and Ben Wrubel of Special Olympics Colorado for a football (soccer) skills session. After an afternoon of practice, attendees got a front row seat to meet World Cup champion Marcos Evangelista de Morais "Cafu" as he was welcomed as the newest Special Olympics Global Ambassador. With the new information and skills Hanna and Craig returned to Cody High School with plans of hosting a Unified soccer event for both their school and Cody Middle School. The goal of the event is to introduce students to soccer, build skills, and have fun! For more information of all youth leaders and their projects visit https://www.specialolympicsglobalyouthprojects.org/ .
Fall semester 2018 & Upcoming Items
Special Olympics Unified Champion Schools® is half way through its 11th year getting bigger, better and more inclusive. Here in Wyoming we have added two new schools for the 2018-2019 year. Please welcome Pine Bluffs Jr/Sr High School in Pine Bluffs, Wyoming and Lovell High School in Lovell, Wyoming! Pine Bluffs Jr/Sr High School is a recipient of an Innovation Grant. These project based grants are offered through Special Olympics North America for students to implement a Unified Champion Schools geared project in their schools. Twins Christian and Christina are using their grant to start the program in their school. To see more about Christian and Christina's project and more sibling powered project visit https://www.specialolympicsglobalyouthprojects.org/fea
Along with the increase in the number of schools, we saw a record number of school aged Unified pairs compete in bowling during Fall Tournament with pairs from Pine Bluffs Jr/Sr High School, Cody, Evanston, Lander Valley, Gillette Schools, Sheridan Schools, and Douglas Schools. Schools also competed in Unified soccer and Unified cycling relays.
Beyond all of the in school activities, like Unified Sports, Whole School Engagements, and Youth Leadership, Special Olympics North America and Special Olympics International are offering exciting opportunities for school programs. Sports experiences at national and international games; Special Olympics Wyoming sent a Unified basketball team to compete in Seattle at the 2018 USA Games and Team USA will be sending two Unified school aged teams to compete in Unified basketball and Unified volleyball.
Other opportunities focus on Youth Leadership, such as Youth Leadership Experience held during the 2018 USA Games, the 2018 Global Youth Leadership in Baku, Azerbaijan held this past September, gave youth leaders from across the country and world to come together and develop their leadership skills to bring the inclusion revolution to their schools and communities. Future youth leadership opportunities are already in the works, with the 2019 Global Youth Summit to be held in conjunction with World Games in Abu Dhabi.
How can you get involved?
Learn more about Unified Champion Schools:
Becoming a Unified Champion School:
Get started now! Call (307) 235-3062