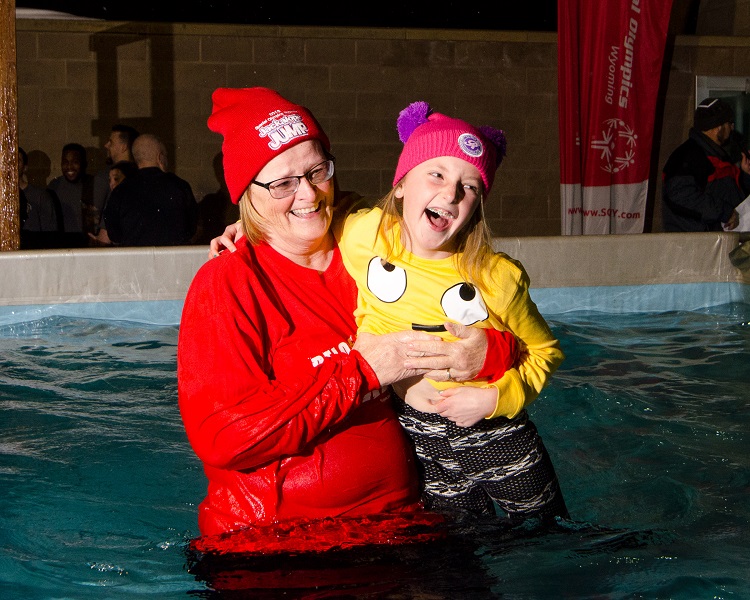 JACKALOPE JUMPS
BE A BELOW ZERO HERO! The Jackalope Jump is a unique opportunity for individuals, organizations and businesses to raise much needed funds for Special Olympics Wyoming athletes at the local, area, and state level by taking an icy dip into freezing waters.
Jumps usually begin in early February, there will be 16 Jackalope Jumps across Wyoming. Jumpers must raise the minimum amount ($100) to earn the privilege of taking the plunge.(If joining as a team of 5 or more - need to raise funds of at least $50 per person)
Jumpers raising additional funds earn extra incentives along the way.
Events like the Jackalope Jumps help support nearly 1,800 Special Olympics Wyoming athletes.

The Jackalope Jump is a wild, fun, crazy fundraising event and a great way to show your community support. Friends, neighbors and co-workers form teams across the state and participate in at least one of the jumps.
Time is now to get a team together. It is truely an amazing way to bond with co workers, friends and family. It has been said that the crazy costumes keep you warm!! We appreciate the amazing support for these events this year and look forward to seeing you at the jump.
Jumper Tips:

Forms:
Team Jumpers:
Fundraising Ideas:

Fremont Toyota Sheridan
*********************************************************************************************************************************
A special SHOUT OUT to our Friends at Murdoch's. They had teams jump in all the locations they have stores during the 2017 jump season. These teams generated nearly $5,000 That is three years in a row with donations totaling over $12,000. Such an outstanding crew. These Murdoch's Manics are amazing!