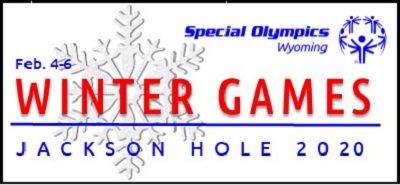 We hope you will join us for the
2020 Winter Games in Jackson.
February 4-6, 2020
What: 2020 Special Olympics Wyoming Winter Games
Who: 210 Special Olympics Athletes
105 Coaches
15 Unified Partners
27 Local Programs from throughout the state
100+ Families, Friends, and Volunteers
When: Tuesday, February 4th - Thursday, February 6th , 2020
Where: Jackson Hole Mountain Resort – Alpine Skiing & Snowboarding
TBD – Snowshoeing &Cross-Country Skiing
Jackson Hole High School -Opening Ceremonies
Snow King Resort – Victory Banquet and Dance
What: Competition – Alpine Skiing, Cross Country Skiing, Snowboarding and Snowshoe competition
Special Events - Opening Ceremony, Awards Ceremonies, Victory banquet and Dance(Favorite Disney Characters)
How: Volunteer Games Management Team made up of 15 individuals overseeing various components of the entire event with support from Special Olympics Wyoming staff.
Budget including donated goods and services of approximately $50,000
Hotel Accomodations:
Teams are responsible for making their own hotel reservations. Snow King Resort is the host hotel again for the 2020 Winter Games; rooms are available for $118 per night and can book directly online with the links below ↓
Group Direct Booking Link - No login/Attendee Code needed:
Web 3.0 URL: http://bookings.ihotelier.com/bookings.jsp?groupID=2729608&hotelID=77244
Booking Engine 4.0 URL: https://reservations.travelclick.com/77244?groupID=2729608
---
Thank you to our Sponsors!