The Law Enforcement Torch Run® for Special Olympics is the movement's largest grass-roots fundraiser and public awareness vehicle.
Click HERE to create an online fundraising page for a team or an individual
Why Get Involved?
Improve your agencies image in your community
Fulfill community service goals for your agency
Gain positive media exposure
Achieve personal fulfillment
Improve leadership and organizational skills
Bond and team-build as a department
Supports 1,600 Special Olympics Wyoming athletes, their friends, families
---
Cops and Jocks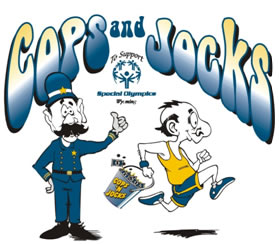 In 2006, the Wyoming FOP created the "Cops and Jocks" program in an effort to further promote the Law Enforcement Torch Run, and in turn support Special Olympics Wyoming. This program proved to be a very successful fund raising mechanism and an even better public relations project. The program operates similar to the firefighter "Fill the Boot" program with MDA. The Wyoming FOP encourages law enforcement agencies throughout Wyoming to consider adopting some form of the "Cops and Jocks" initiative in their areas.
For More Information On Cops 'n Jocks Click HERE
---
Jackalope Jump
Jackalope Jumps are a great way for Law Enforcement Officers to get involved with local programs.
All the funds raised by Law Enforcement Offices will be credited to the LETR year end total!
For more information on Jackalope Jumps click HERE!
---
Golf Ball Drop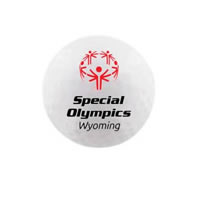 Ingredients:
500 golf balls ~ Numbered
Golf course putting green with a minimum of 2 holes
Cherry Picker or crane
Record of ball numbers and who purchased what number
Direction:
Do the math
500 balls X $3 = $1500
First Place $400
Second Place $250
Third Place $100
Sell the Balls for $3.00 or 2 for $5.00
Fill out the Chart
Snag your local friendly crane operator & drop the balls
Results:
Fun and quick way to raise funds
Time:
1-2 months
Other:
Tie it in with another event at the golf course
Make sure lots of people are selling the golf balls
Have some sort of ticket or marker when you sell a ball
HAVE FUN!!! :)
Guideline:
Do not have expenses exceed more than 50% of income
---
Donate to Insulate
When you are looking for a fun and easy fundraiser to raise money for Special Olympics Wyoming, what is easier than growing some facial hair - if your agency allows it... This idea is easy; get the ok from the powers that be and have a voting contest to see who's the best.
---
Cop on Top
A Cops-on-Top – a.k.a. Building Sit – is a unique and successful fundraising idea that become a trademark Torch Run event worldwide. It requires officers to sit on a building for a period of time or even several days in an attempt to raise awareness and funds. The individual on the roof often will use a megaphone to attract attention and request that people give donations to additional volunteers standing at street level. Through effective interaction with the media, and counting on the charity and sympathy of the general public, thousands of dollars can be raised! For more information about Cops on Top click here.
---
Run with the Law
An SRO started "Run with the Law" to engage more school age students. This unique idea is a torch run when students collect pledges (at least $50) to be able to run with local law enforcement. Click here for more information.