PIGSKIN MADNESS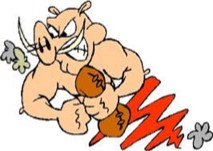 We're looking for people to sell tickets (and buy) Pigskin Madness tickets!
Pigskin Madness is a $ 20.00 game of chance!
Each Ticket has 4 randomly selected professional football teams for each of the 17 weeks of regular season play.
At the end of every week all the scores on your ticket are added together, and several tickets with the highest (and lowest) total scores win cash prizes.
Tickets can be ordered in groups of ten (10) by contacting the state office at (307) 235-3062 or e-mail info@specialolympicswy.org.
All ticket stubs and money's must be returned by 5:00 pm on Wednesday, September 6, 2017.
Order Form