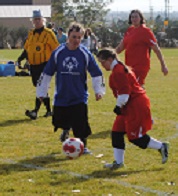 Area Fall Tournaments Kick Off
Saturday, September 16th in Green River athletes from Area II will be put their bowling skills to the test. More information on these games can be found here.
Area III Fall Tournament in Cheyenne; bowling, cycling and tennis will be featured on Thursday, September 21st. For details, check out the Area III page.
Friday, September 22nd two Area Fall Tournaments are happening. Athletes at both competing in bowling and cycling. The Area I Fall Tournament will be hosted in Lander information can be found by clicking here. The second games being Area IV Fall Tournament, are in Sheridan. Click here for more information.
Saturday, September 23rd in Casper is the Area V Fall Tournament. Athletes will be competing in bowling, cycling and soccer skills. Take a look at the Area V web page to learn more.
Good luck to all the athletes!
Volunteer Opportunities