Special Olympics Wyoming offers year-round sports training and competition to individuals with intellectual disabilities.The competitions that are held are listed below by season: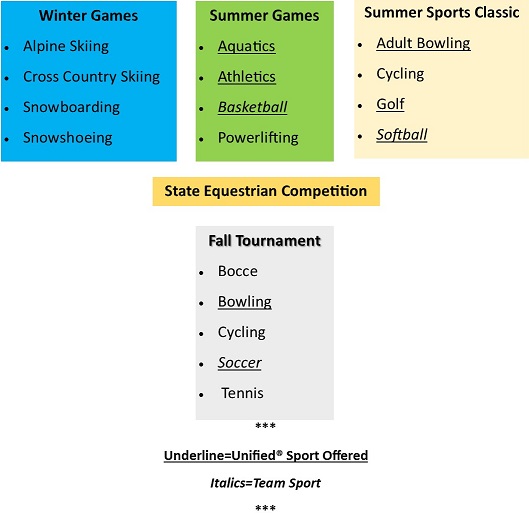 Competition
Special Olympics Wyoming is proud to offer 5 sports season throughout the calendar year all of which have a statewide competition.
---
Athlete Training
Athletes are required to train for 8-12 weeks in their sport of choice and compete at an Area level competition before advancing onto State level competitions.
---
MATP
Motor Activities Training Program (MATP) offers a level of competition based on personal success instead of competition and is available for the lowest functioning athletes.
---
Unified Sports®
Unified Sports is a new revolution of inclusiveness as Special Olympics athletes and peers without intellectual disabilities train and compete side-by-side!
---
Sports Resources
Sports resources are available, including: coaches guides, sports rules, competition registrations, participant forms, etc.