Welcome to Special Olympics Wyoming


Summer Games is a wrap - go to our page to share your feedback and make the 2020 games the best.
Coming Up
1. Mega Coaches Training - June 14th & 15th in Casper. Go to our Coaches Training page for more information.
2. Global Messenger Training - June 14th & 15th in Casper. Athletes, Unified Peers, all are welcome! Click here for registration.
3. CNFR - June 15th in Casper. Click here to register.
4. Summer Sports Classic - August 16th & 17th in Casper. Golf, Doubles and Team Bowling, Softball, and Cycling. Registration information will be out in the next two weeks!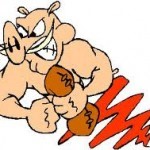 That's right, NFL draft last week, schedules are out, it's time to think about selling Pigskin Madness raffle tickets!
Put on the brakes - our last jump of the season has been moved to Thursday, May 23rd - don't worry it's still Evanston and there may still be ice on the pond! Are you in the Southwest corner of the state? This is your last chance - Click on the logo for details, pointers, and an opportunity to sign up (or donate).